Delhi Chief Minister Arvind Kejriwal, during the state's Republic Day celebration on Wednesday said the whole nation needed to "ponder if there's a dark shadow falling upon the existence of our democracy."
Waging a battle with Lieutenant Governor Vinai Kumar Saxena over administrative control of the city-state, Kejriwal said, "When our forefathers granted us this constitution, and enshrined within it this freedom and democracy that we live in, they committed the country in the name of We, The People of India… Our democracy, the constitution, made the public supreme… But over the last few years, we have observed that there have been threats upon that too… Governments are supreme only because the people of this country, the real supreme power, have tasked them to administer. But we have seen a peculiar situation over the last few years."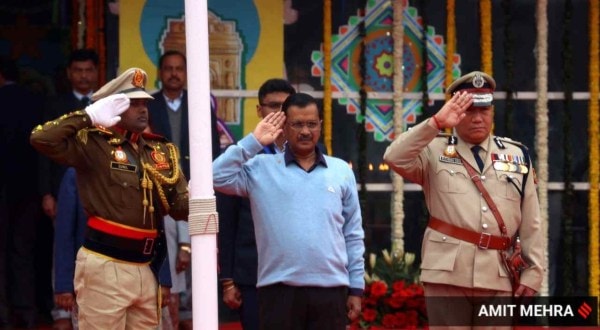 Delhi Chief Minister Arvind Kejriwal during the state-level Republic Day function of Govt. of NCT of Delhi, at Chhatrasal Stadium in New Delhi. (Express Photo by Amit Mehra)
The CM further added, "There's a state where the elected government passes one legislation after the other but the governor refuses to sign them. Can one man, who does not have the public's backing behind him, stop the legislation passed by the people's government. Can a man have so much power that he can infringe upon the public's voice, their wants and expectations?"
Referring to the Punjab governor's withdrawal of order calling a special assembly session in September last year, and Kerala governor's show cause notices to Vice Chancellors, Kejriwal said, "An elected government wanted to call the session of their Legislative Assembly. Sounds pretty simple, right? But the Governor refused to sign on that file too asking what purpose do you want to serve with the session… Can an unelected governor have so much power that he can question why an elected government wants to meet with its elected representatives. This is not democracy. You can not let one man hold the democracy hostage on a leash in his hand. There are so many instances that we have witnessed in the recent past itself. Elected governments appointed Vice-Chancellors to the state universities they run, but their governors dismissed the VCs for no rhyme or reason… As we move into 74 years of being a republic, the whole nation needs to ponder if there's a dark shadow falling upon the existence of our democracy. We need to find a way to combat this problem."
The CM also called for a China boycott amid reports that India has lost presence in 26 out of 65 Patrolling Points in Eastern Ladakh.
"This is a matter of deep concern for every citizen of our country. Our soldiers put in all their might to fight the Chinese on the border… It is our duty to boycott China, look into its eyes and make it clear that we will not compromise on national security. But over the last few years, the country has seen a rise in trade with China despite its misconduct on the borders. In 2020, our country bought goods worth 65 billion dollars. In 2021 the import figures shot up to 95 billion dollars, a straight 50% jump. Why are we making China richer at the cost of our security… We import items like shoes & slippers, mattresses and cushions, spectacles, toys and statutes. Don't we make these items in our country… Why are they harassing our own entrepreneurs and shooing them away but hugging the Chinese?" Kejriwal said.
The CM, who recently visited Telangana on invitation from Chief Minister K Chandrashekar Rao, said there was a need for state governments to learn from each other.
"Four CMs had got together there (in Telangana). The Telangana Government has started a brilliant initiative. They have a population of 4 crore people in their state, all of them will be provided with free eye checkup and if any of those need any follow-up or spectacles after the test, that too will be given for free. I loved the initiative. I announced there itself that we will implement it in Delhi too…. We made Mohalla Clinics in Delhi. The Telangana CM saw the model and replicated it there. We transformed schools in Delhi. The Tamil Nadu CM came to see what we did. He liked it and implemented it there… What is the reason to fight amongst each other?" He said.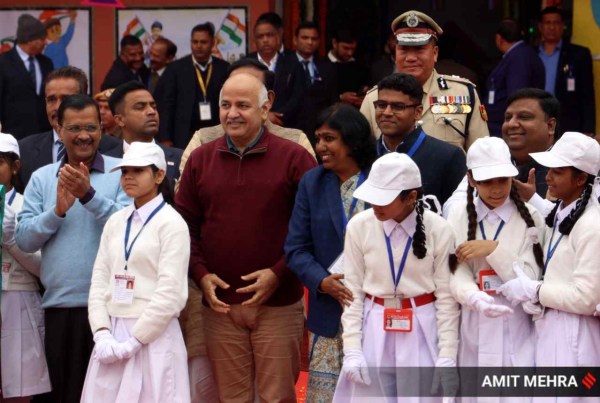 Delhi Deputy Chief Minster Manish Sisodia during the state-level Republic Day function of Govt. of NCT of Delhi, at Chhatrasal Stadium in New Delhi. (Express Photo by Amit Mehra)
Referring to BJP, he said, "These people have now picked up a fight with the judiciary. Who fights with judges? Now they are fighting with other state governments, students, farmers, traders. If they stop fighting with the country and instead cooperate, no one will be able stop India from becoming No 1."
The celebration, which is traditionally held on January 25, saw the participation of a boys band from a government school for the first time. Students of Government Boys Senior Secondary School No. 1 Punjabi Bagh, MAPS Ashok Vihar, and MAMS Pritampura were among those who took part in the official celebrations.
Congratulations Delhi🎉

As per multiple surveys of Central Govt/Agencies, Delhi is now—

📊 No. 1 in Start-ups
⚡ No. 1 in EV Penetration
🏫 No. 1 in Education
🏥 No. 1 in Healthcare
📹 No. 1 in CCTV Coverage
🌳 No. 1 in Green Cover Density among Mega Cities

—CM @ArvindKejriwal pic.twitter.com/rhX0fajp6n

— AAP (@AamAadmiParty) January 25, 2023
https://platform.twitter.com/widgets.js
Congratulating the people of Delhi, Kejriwal said Delhi had performed far better than other states on several parameters, as per the Centre's reports.
"According to Central Government reports, Delhi has become number one across the country in terms of startups, EVs, education, health, CCTVs and green cover. Ration, electricity, water, education, health, bus travel and pilgrimage are free in Delhi; that's why Delhi has the lowest inflation in the whole country. The inflation rate in Delhi is 3 percent, while it is 7 percent in Gujarat, 7.8 in Haryana, 7.5 in Madhya Pradesh and 6.8 percent in Uttar Pradesh… Delhi has become the startup capital of the country. Now Delhi has the maximum number of startups in the whole country, ahead of Bangalore," he said. Talking about Delhi's CCTV coverage — 1,826 cameras per square mile — Kejriwal said, "When I was kid, there was a song from a Bollywood movie, 'Isko haraya toh kya kiya, usko haraya toh kya kiya, Dara Singh ko harao toh jaane'. It means you must prove your mettle by defeating the bigwig. Today your Delhi is leaving behind big countries like America, London, Singapore, New York, Washington."
He also appealed to the Centre to remove GST from food items like milk, curd and wheat.